By University of Arkansas Grantham
October 13, 2011
Editor's Note: This blog post has been updated to reflect the most current U. S. Navy information.
At UA Grantham our mission is to serve those who serve. Our history is rooted in the military. So this day is a special one for us. If you know someone serving in the United States Navy, today would be a good day to wish that person a happy birthday. Today, the naval warfare service branch of the U.S. Armed Forces turns 241 years old. The U.S. Navy earned its birth certificate (it was then called the Continental Navy during the American Revolutionary War) on Oct. 13, 1775.
Happy birthday to our UA Grantham online degree students that are also naval personnel as well as all current and former naval personnel out there. This country would not be the same without your patriotism and unselfishness. The Navy often cites "not self, but country" as an unofficial saying of sorts.
The Navy had 323,792 personnel on active duty in January. Over the years, numerous United States Presidents (John F. Kennedy, Lyndon B. Johnson, Richard Nixon, Gerald Ford, Jimmy Carter, George H.W. Bush) served in the Navy. Former NBA superstar and two-time NBA champion David Robinson of the San Antonio Spurs carried the nickname 'The Admiral' for his prior service as a naval officer. These examples are well-documented.
But what about famous personalities you may not have known were members of the Navy? The following is UA Grantham's top 10 list of the most famous people you may not have known served in the Navy.
The list is ordered from 10 (somewhat surprising) to 1 (quite a bit more surprising). Enjoy.
10. Roger Staubach1
Staubach may have been higher on this list if he wasn't the greatest quarterback in Navy's history. Many fans associate the legendary Dallas Cowboys quarterback with the Navy, where he played college football from 1962-1964. Some of the younger generation, folks who didn't grow up in the '60s and '70s, may have forgotten about Staubach's roots. He was a first-round NFL Draft pick in 1964, but didn't play in the NFL until 1969 because of his military commitment. Staubach served as a Supply Corps officer in the Navy until 1967.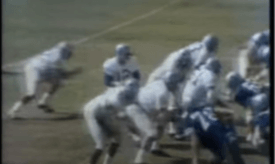 9. Jack Lemmon2
The late actor (passed away at age 76) served in the Navy after graduating from college in 1947. He went on to work in radio, television on Broadway, and won Academy Awards (Best Actor in Save the Tiger, 1973; Best Supporting Actor in Mister Roberts, 1955). He was also well-known for his role in the Grumpy Old Men series.
8. Yogi Berra3
Yep, the same former New York Yankees catcher who stars in Aflac commercials was part of the Navy during World War II, where he served as a gunner's mate during the D-Day invasion. Berra, now 86, owns 10 World Series rings as a player (and another three as a manager), more than any other player in the history of Major League Baseball.
7. Henry Fonda4
The late Fonda served in the Navy during World War II, and enjoyed six decades of being a successful actor in Hollywood. Fonda passed away in 1982 at age 77.
6. Johnny Carson5
Carson, who hosted The Tonight Show Starring Johnny Carson for 30 years, joined the Navy in 1943. Carson – he passed away in 2005 at age 79 – won six Emmy Awards over the years, and has been a major influence for modern late-night TV hosts like Conan O'Brien, Jay Leno and David Letterman.
5. Jesse Ventura6
Sure, "The Body" Ventura was a professional wrestler, a politician, the Governor of Minnesota, an actor and a TV/radio host, but he also served in the Navy for six years (1969-1975) during the Vietnam War, and was a member of the Underwater Demolition Team.
4. Humphrey Bogart7
Before being one of the most famous leading men on the Silver Screen, Humphrey Deforest Bogart joined the US Navy. He left school to serve during World War one. While on assignment as a military police officer, Humphrey was struck in the mouth which left him with his trademark scar and lisp. After service he went on to make some of the most treasured movies in Hollywood including Casablanca and the Maltese Falcon.
3. Montel Williams8
Remember the good, old days of 1996, when The Montel Williams Show received a Daytime Emmy Award for Most Outstanding Talk Show host? Before that, Williams served in the Navy. He actually worked his way up to the rank of lieutenant before giving up his naval commission to become a public speaker.
2. John Coltrane9
Really? Indeed. The saxophone pioneer of American bebop served in the Navy for one year in 1945. Not surprisingly, Coltrane played in the Navy jazz band when he was stationed in Hawaii. Did you know the Navy had a jazz band? Me either. Pretty awesome. Coltrane passed away in 1967 at age 40.
1. MC Hammer10
Hammer time. Seriously. Hammer, or Stanley Kirk Burell (his real name), wasn't always rockin' the radio dial with "Can't Touch This" and "Too Legit to Quit." Burrell served in the Navy for three years as an Aviation Storekeeper before his musical career took off in the late 1980s/early 1990s.
What do you think? Who do you think should make the list?