Of all the factors that influence a person's decision to attend college, cost tends to be the most prohibitive. The cost of college education has been steadily increasing for years now. In fact, the National Center for Education Statistics reported that the average cost of undergraduate tuition, fees and housing increased by a whopping 31% between 2007 and 2017.
By choosing to take classes online rather than in person at a traditional brick-and-mortar institution, students can reduce many of the costs associated with obtaining a college degree. The benefits of online learning are numerous—financially and otherwise—and attract a wide variety of students. The global COVID-19 pandemic has further emphasized the perks of online education, resulting in the increasing popularity of online degree programs.
College Tuition Costs Per Credit Hour, Compared
"Is online college cheaper than a traditional college?" is the primary question asked by prospective students. The answer is yes—most of the time, and for a number of reasons. Most colleges charge students according to a per-credit rate, and tuition can vary greatly among institutions. Some traditional colleges offer online classes in addition to their regular in-person curriculum, but the costs differ based on whether the college is public or private, whether the individual is attending in state or out of state, the degree being sought, and the specific institution.
A survey conducted by The Changing Landscape of Online Education (CHLOE) reported that 74% of college institutions charge students the same tuition for both on-campus and online degrees, while 18% charge less for online degrees. According to U.S. News and World Report, an online bachelor's degree from a public college costs an average of $316 per credit hour, while an online bachelor's degree from a private college costs an average of $488 per credit hour. The on-campus cost of that same degree from the same private college is $1,240 per credit—two and a half times as much as the online degree.
This seems like a considerable savings, but it does not hold true for every institution. Sometimes a college will actually charge more for an online degree than one earned in-person, and the CHLOE report shares that 23% of institutions do this. U.S. News and World Report accounts that a private college in Iowa charged $397 per credit hour for an on-campus bachelor's degree and $416 per credit hour for an online bachelor's degree. This seemingly counterintuitive practice is not found only in private schools. Oregon State University charges on-campus students $212 per credit hour and online students $309 per credit hour.
While the upfront cost of online classes from a traditional institution can be less than in-person classes, these institutions often charge extra for tuition and other fees, resulting in an even higher total bill. Why is this? These online programs include many hidden costs that are not part of in-person programs, primarily those incurred from online support services, course design, marketing and operations. Some schools employ outside companies called operation program managers to oversee development and operations, paying them between 50 and 80% of tuition under these agreements.
Compared to the in-person and online classes held by traditional institutions, exclusively online programs offer significant savings in terms of tuition and fees. Schools that offer only online degrees have fewer expenses, as they occupy fewer acres of land, require fewer buildings to operate, and do not employ nearly as many staff members that traditional colleges rely on. These savings equate to cheaper tuition rates, saving you thousands over the course of your program.
Online colleges also offer a number of financial aid options that further decrease the cost of a degree. Scholarships and grants are need- or merit-based forms of aid that do not require repayment, and students can also cover costs through paid assistantships, reimbursement programs and federal and private loans.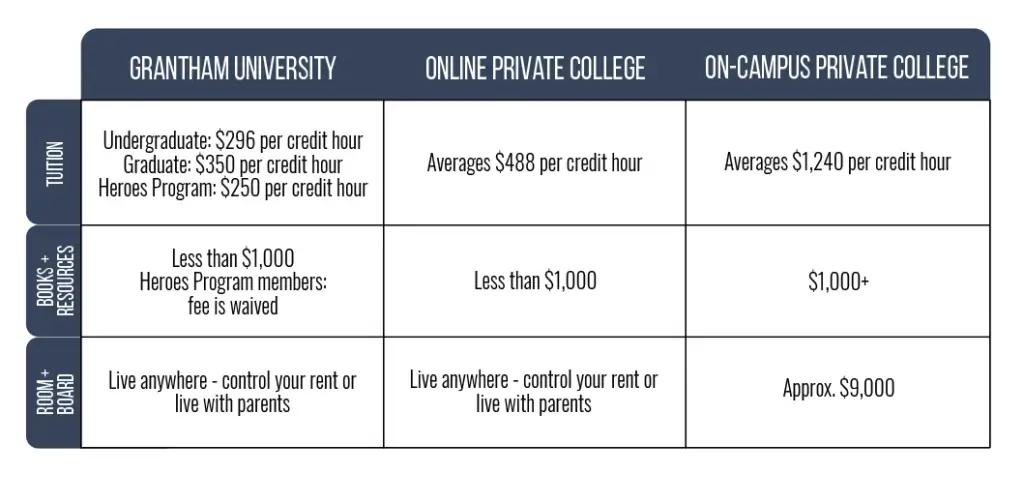 Additional Money-Saving with Online College
In addition to tuition savings, attending an online college also mitigates or even eliminates a variety of other major expenses associated with college life. For students earning their degrees on-campus, a number of fees and expenses quickly add up, meaning the total cost of college ends up being much more than the ticket price would suggest. Along with tuition, traditional institutions charge fees for campus security, student health, athletics programs, campus recreation and student organizations, including Greek life. Access to cable TV, parking stickers and gym memberships can form additional fees.
After tuition, room and board account for the most expensive part of college life, costing around $9,000 per year. Getting your degree online eliminates the need to pay for room and board, meaning you can rent a modest apartment for a fraction of the cost or save money by living at home with your parents. And while most know that textbooks are expensive, many are likely not prepared for just how expensive they really are. Hardcover textbooks can be a few hundred dollars each, and some courses require several, meaning your yearly textbook costs can easily exceed $1,000. Online courses often use electronic textbooks, which tend to be much cheaper and are sometimes included in the courses by professors.
Transportation costs are reduced immensely by learning online. Going to college in a rural or suburban area requires a car, which means monthly payments, insurance, gas, maintenance and repairs. In a city, you will likely rely on public transit, such as subways, buses and trains, which cost less but can still add up. If you live a long distance from home and expect to see your family on the holidays, a rental car or airplane tickets can be another costly expense.
When you are considering taking classes at Grantham University, keep in mind that we offer a selection of scholarships and financial aid opportunities. This is just an additional benefit that bolsters the fact that our tuition is one of the lowest in the country.1 When you combine these savings opportunities, you realize that Grantham is a perfect choice for students today.
At Grantham University, we look for every opportunity to help individuals further their education, and we try to give back to the members of the community who give to us every day. That is the reason we offer further tuition discounts to all veterans and active military personnel. Others who are fighting hard right now to protect our country are the frontline workers in the health field. Since they put their lives on the line during this pandemic to protect us, we have also reduced tuition for them in an effort to allow them to continue learning.
Other Benefits of Online College
While the financial benefits of online education are certainly attractive, this form of schooling includes a number of less quantifiable benefits, as well. Online education provides students with a high degree of flexibility, allowing them to live anywhere in the world while completing their degree program. Because coursework can be completed at any hour on any day of the week, it is easy to coordinate studying with work and household responsibilities. A flexible schedule allows you to spend more time with family and may reduce costs associated with childcare. Learning
online also promotes a number of valuable personal skills, including organization, time management and task prioritization.
Because online classes require technical and communication skills, they will boost your marketability in the workplace. Learning online will require using different software programs and successfully navigating classroom management systems. You will not only be viewing lectures, but also engaging with other students in discussions and group projects. The ability to work with individuals from various backgrounds allows you to gain cultural sensitivity, learn from your peers and develop professional connections.
With college tuition rates increasing and COVID-19 upending traditional education, online learning has become increasingly popular and appealing to students of all ages and walks of life. From lowered costs to enhanced personal skills, virtual education provides a number of benefits compared to conventional on-campus learning. The high degree of flexibility and customization offered by online degree programs guarantees that prospective students thrive, even in these challenging times.
Grantham offers benefits to transfer students that they can't find at many other schools. We understand how discouraging it can be to transfer to a new school and realize that you have lost money that you already spent on education because some of your credits didn't transfer. For this reason, we have made changes to our degree programs that allow our students more flexibility in transferring credits from previous schools they attended.
At Grantham University, our mission is to help students get an education that will increase their ability to earn more in the workplace. That's why we have included even greater opportunities to get credit for education based on life experience. Many of our programs offer credit hours for on-the-job training and other education students may already have in certain areas. We want you to be able to get an education without breaking the bank. If you already have the knowledge you need in a certain field, we will try to give you credit, so that you don't have to pay to learn it again.
Are you ready to begin your online education journey? Grantham University, one of the first online universities, can help you get started. Get in touch with an online learning expert today.