Have you always wanted to help others and contribute to the betterment of society? Are you a military service member or veteran looking for a natural career transition? Criminal Justice may be the perfect fit, with job opportunities in law enforcement as a police officer, detective and more. At University of Arkansas Grantham, you can earn your Criminal Justice degree entirely online and be prepared to pursue a position that interests you!
Our Associate Dean of Liberal Arts, Tina Freestone, is a retired police officer. She received her master's degree in Criminal Justice and worked in the field for 10 years before she moved to academia. Now, she brings her practical experience and criminal justice education into our virtual classrooms. In the video below, you will hear more from Freestone about the field and why you should earn your bachelor's degree in Criminal Justice at UA Grantham.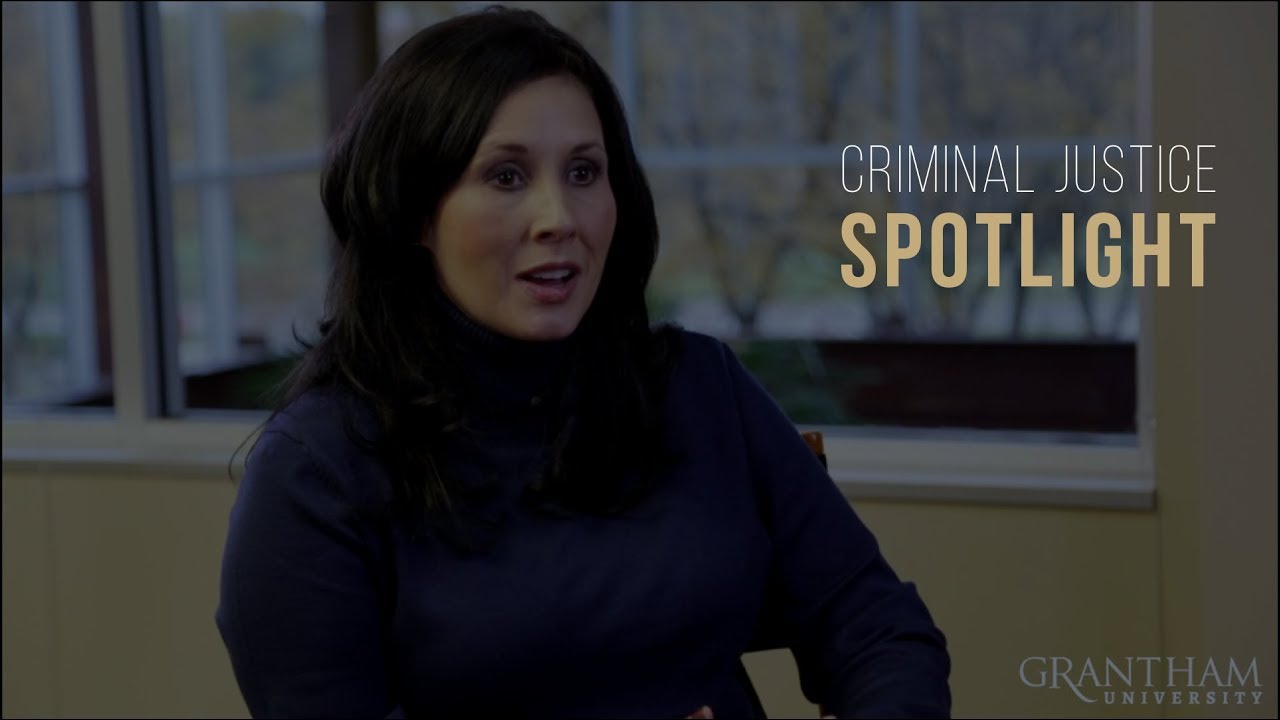 What Do Police and Detectives Do?
"It's not what you see on TV," Freestone said. After working in the field for 10 years, Freestone "definitely appreciated the sacrifice our law enforcement officers and their families make." Police and detective work can be physically demanding, stressful and even dangerous at times. Of course, the work can also be rewarding, knowing you are serving your community and keeping people safe. To Freestone, "the best parts are the continuous thank yous."
Police officers protect lives and property, while detectives gather facts and evidence of possible crimes. Specific job duties vary, but typically both positions respond to emergency and non-emergency calls, patrol assigned areas, and use technology to check license information and conduct research in the field. All police and detectives write reports and keep detailed records that will be needed if they testify in court.
What Education and Skills Do I Need?
Education and certification requirements may vary based on each potential employer and specific location, as well as the position within the local, state or federal level. Many federal agencies and some police departments require at least some college experience or a college degree. Candidates seeking a career in law enforcement at the local or state level will require additional training and testing that is determined by the Peace Officer Standards and Training (P.O.S.T.) in each candidate's state.
Candidates seeking a career in computer forensic investigations will require additional certification. Additionally, employers look for candidates who possess education and attributes such as the 6 listed below.
Communication skills: You must be able to effectively speak with people and complete written reports.
Empathy: You must understand the perspectives of a wide variety of people and have a willingness to help them.
Good judgment: You must be able to determine the best way to solve a wide array of problems quickly.
Leadership skills: You must be comfortable with being a highly visible member of your community, as they will look to you for assistance in emergency situations.
Perceptiveness: You must be able to anticipate a person's reactions and understand why people act a certain way.
Physical stamina and strength: You must be in good physical shape to pass required tests for entry into the field and to keep up with the daily rigors of the job. You must be strong enough to physically apprehend offenders.
What Are My Opportunities to Advance?
Employment of police officers and detectives is projected to grow 7 percent from 2016 to 2026, about as fast as average, as the demand for police services to maintain and improve public safety is expected to continue. According to the BLS1, because the level of government spending determines the level of employment for police and detectives, the number of job opportunities can vary from year to year and from place to place; however, those with a bachelor's degree and law enforcement or military experience should have the best job opportunities.
How Can UA Grantham Help?
UA Grantham's online Bachelor of Arts in Criminal Justice[/link] program blends textbook knowledge with real-world experience. Freestone uses actual cases as examples and situations she encountered in the field to create a comprehensive curriculum that's relevant to the work you can expect to do upon graduation. Additionally, "all of our faculty members are either currently working in the field of criminal justice or have retired from criminal justice and law enforcement," Freestone said.
In our 100% online program, you can expect to build a foundation and broad base of skills that can advance your career. Specifically, you will gain knowledge in advanced criminal justice theory and crime, the practice of law enforcement, the U.S. judicial system, and much more. At UA Grantham, you can customize your degree with a concentration in homeland security or computer forensic investigation — depending on your career goals and interests — and we also offer various electives to further narrow your program focus.
In addition to your career-specific skills, you will gain critical life skills and be able to:
Formulate and express thoughts and ideas effectively
Work collaboratively to achieve a common goal
Engage in social responsibility and demonstrate professionalism
Use analytical reasoning
Develop information literacy
Recognize areas for professional growth
Throughout your program, you will work closely with a student advisor, who will check in with you every two weeks or less to discuss your progress and answer any questions you may have. (They are available via phone, text, email or chat anytime you need them as well.)
Additionally, all UA Grantham students have access to our no-cost career planning services, job prep courses and transitional resources.
When Can I Start?
All classes at UA Grantham, including our Criminal Justice classes, start monthly. And with UA Grantham's commitment to provide quality affordable education, you can't go wrong. UA Grantham offers a lower tuition rate for military, veterans, first responders and civil servants. We believe all heroes deserve the best.  There's no better time to advance your career and achieve your goals. Simply fill out the form on this page, and we'll get back to you shortly.
1 Information sourced from https://www.bls.gov/ooh/protective-service/police-and-detectives.htm