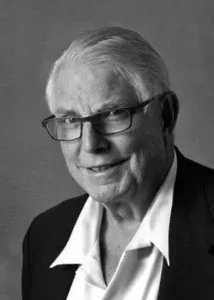 Kansas City, Mo. – February 20, 2013 – The UA Grantham community is deeply saddened to announce the sudden death of Eugene "Gene" A. Jewett on February 16, 2013.  Gene was 72.
Gene was a thought leader and early financier of online education, convinced that leveraging technology across the university enterprise would result in a high-quality college education that would be both accessible and affordable to America's middle class, a sector he believed to be increasingly marginalized and locked out of the opportunity to earn a college degree. Since 2001, Gene was a Board of Directors member for GEC, the financial sponsor of UA Grantham.
Gene had a long and storied career in the financial services industry and was a partner at Chesapeake Capital, LP at the time he joined GEC's Board.  He was a graduate of Michigan State University where he played basketball, and at 6'8" with a great jump shot and quick reflex, later played pro ball before the NBA was formed.  Gene was a composer, poet and an author, who wrote countless book reviews and articles.  Additionally, he was a musician, entrepreneur, venture capitalist, mentor, great friend, and all-around Renaissance man.
"Gene was fond of saying that nowhere else but America can one find legitimate opportunity for success and personal wealth creation through education, hard work and taking a bit of risk," said UA Grantham President Joseph McGrath. "Gene's passing marks a sad time for the University; we will honor him by continuing in our mission to provide high-quality undergraduate and graduate online degree programs to working adult students around the world."
Gene, who lived in Old Town Alexandria, Va., is survived by two sons, Fletcher and Eugene (Lyon), two grandsons, Hunter and Finley, two granddaughters, Chanler and Jacki, and daughter-in-law Annie.
Reflecting on Gene's life, lifelong friend Cliff Stearns, Sr., former U.S. Representative for Florida's 6th Congressional District for 24 years, said "Gene was very insightful and had a crystal ball for waves of the future. This was exemplified by his support for Grantham, as he was a pioneer in predicting online universities would have a significant role in education in this country. This has definitely come to pass and will continue to grow."
UA Grantham is one of the oldest accredited, private, degree-granting distance education universities in the United States. UA Grantham's accredited online degree programs are flexible and portable, allowing students to fit education into their life instead of arranging life around their education. For more information about UA Grantham, visit About Us or call 800-955-2527.
About UA Grantham:
Established in 1951, UA Grantham specializes in online education for the working adult student. Grantham's online undergraduate and graduate degree programs include: Accounting, Business Administration, Criminal Justice, Computer Science, Engineering Technology, Allied Health, Information Technology, Medical Coding and Billing, Nursing, Human Resource Management and Business Intelligence. Accredited since 1961 by the Accrediting Commission of the Distance Education and Training Council, UA Grantham has compiled a distinguished record as a respected and accredited distance learning university spanning six decades of service to education.
###