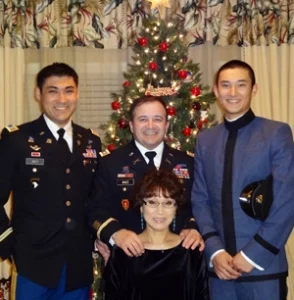 Frank Baez comes from a career military family. His father is a member of the Army and most recently, redeployed from a one year deployment in support of Operation New Dawn. His mother is a full-time concessionaire in Pearl Harbor, Hawaii, and his brother is currently a freshman at The Citadel. His family is who he credits for most of his strengths and successes.
Frank's career in the military is full of astonishing stories of dedication and strength; however, to hear him tell it, he is just another soldier doing his duty.
Frank's military career started when he became a member of the South Carolina National Guard. He was activated in response to September 11, 2001. At the time, he was attending The Citadel and was able to complete his education. Upon graduation in 2004, Frank was stationed at FT Campbell, KY, where he became a member of the 101st ABN DIV (AASLT). In this capacity, he served in various duty positions from Rifle Platoon Leader to Company Executive Officer and Battalion Logistics Officer. In support of Operation Iraqi Freedom, he was deployed from September 2005 to September 2006 in Kirkuk, Iraq. Just one year later he was deployed again in support of Operation Iraqi Freedom, this time to Samarra, Iraq.
With frequent and lengthy deployments, Frank had the intention of continuing his education, but could not find the necessary time. It was during his deployment in Samarra, Iraq, that his life took an unexpected turn. Frank was seriously wounded and returned to the States and underwent numerous surgeries and rehabilitative treatments to regain the ability to walk.
"This put me in a unique position in which I was able to do a lot of reflecting and had the requisite time to put towards schooling," he commented.
Frank was wounded not once, but twice in support of combat operations and spent the following 14 months as a member of the Warrior Transition Unit at Walter Reed Army Medical Center and Fort Campbell in Kentucky. During this unexpected obstacle, Frank decided to continue his education.
It is a testament to his dedication and strength, that he was able to participate in the rehabilitation training to regain the ability to walk, while mastering other skills to fully regain various sensory and motor skills, all while pursuing his degree.
"During the recovery process, it became apparent that I would no longer be able to serve the Army as an Infantryman, so I changed paths to pursue my degree and a career as an Intelligence Professional."
Frank chose Grantham University after a recommendation. He selected an online Master in Business Administration for a few reasons. He felt that a MBA had the most correlation to his future as an Army Officer. It is critical for someone in this role to understand the interworking of personalities, processes and how they can be leveraged to assist a larger organization move towards its goals. He also felt that a MBA would give him the requisite skills to be an effective leader and manager in a larger organization and assist with his career advancement.
"Despite the fact that I had the opportunity to be medically discharged from the military after being seriously wounded in combat, I chose to remain in the Army and to continue service to my country."
What an inspirational level of strength, courage and dedication. Frank continues to serve our country. Upon completion of the Military Intelligence Officer's Captains Career Course in Fort Huachuca, AZ, he returned to FT Campbell, KY, where he has served as the Group Assistant Intelligence Officer, and is currently serving as the 4th Battalion 5th Special Forces Group (Airborne) Military Intelligence Detachment Commander.
"Once I started my MBA, I maintained the motivation to continue and recently finished during my most current combat deployment overseas."
Frank, from all of us at Grantham University, congratulations on your success!