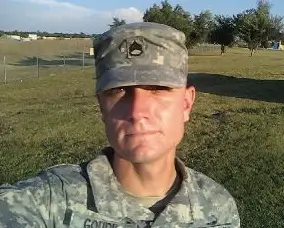 UA Grantham Criminal Justice student, Staff Sergeant Lucas Goupil, was awarded the Staff Sergeant Jimmy D. Haws Research Award during Senior Leaders Course (SLC). The award is named for SSG Haws who was the only Air Defense Artillery soldier fatally wounded during Operation Desert Storm.
To be considered, students had to write a research paper examining a battle in history and then reflect on it using battle analysis and methodology. SSG Goupil's paper was on the War of 1812. Out of the 14 papers submitted, his was selected for the award. He received a Certificate of Achievement and his name was engraved on SSG Haws' Memorial Statue.
"I received this award because of what I learned Grantham," SSG Goupil said. "The classes I have taken there have greatly contributed to my achievement."
SSG Goupil grew up in North Carolina with his parents Patrick and Margarett. Neither of whom went to college. "I knew I wanted to complete that chapter of my life," said SSG Goupil, "so I could give my family the life I never had."
He enlisted in the Army in February 2000 with the intention of staying for three years, and then using his G.I. Bill to purse his college education. He didn't expect to fall in love with the Army, but that's exactly what happened.
"Once I enlisted, something happened," SSG Goupil reflected. "I fell in love with the Army, all that it stood for, and the honor. Here was my opportunity to use the standards and discipline my father instilled in me while serving the people of my country. The majority of my family wasn't able to travel, and here I had the opportunity to travel all around the world."
UA Grantham came into SSG Goupil's life when he decided to pursue an online degree that would allow him to utilize the skills he developed in the Army: combating terrorism. UA Grantham's 100% online learning platform combined with the Criminal Justice – Homeland Security online degree made it the perfect fit for him.
SSG Goupil's career has taken him all over the world, just like he wanted. He has been stationed at Fort Stewart, South Korea, Germany, Fort Bragg, Fort Bliss, and most recently Fort Still. He enjoys the ability to complete his coursework when he finds time in his hectic schedule of work, school and family.
"The fact that I can complete the work on my time instead of the teacher's is reason enough to like Grantham," SSG Goupil said. "My built in support team of (Student Advisor) Kristen Rubey and the rest of the staff is an added bonus."
Learn more about UA Grantham's Military Aid Grant Program.