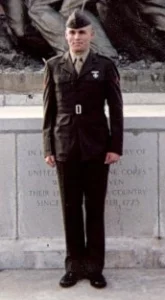 UA Grantham's faculty, Mr. John Wagner, has made significant strides to improve the quality and standards of the Criminal Justice online program. As a fulltime employee with the Kansas City Missouri Police Department, John discovered his love for teaching when he was assigned as an instructor at the Regional Police Academy a few years ago. "While working in that assignment, I came to realize how much I truly love teaching… I am a veteran and when I found out about UA Grantham's commitment to veterans, I had to become a part of the program," commented John.
Currently, he is teaching CJ101, CJ102, CJ414, and CJ416. With a list of courses that keeps him fully involved with the University and his students, John says, "My graduate studies have an emphasis on terrorism, so I eventually want to begin teaching those subjects in addition to the CJ courses I am currently teaching." His tenacious attitude toward his work stems from the experience he is able to provide to his students and the reward he receives from giving back to those who protect this country. "I see it as a way to serve those who serve us every day," said John.
John began his law enforcement career in 1981 with the United States Marine Corp. After graduating from Boot Camp, he attended the U.S. Army's Military Police School. After graduation, John was assigned to the Fleet Marine Corps where he attended and graduated from the Orange County, California Sheriff's Academy, obtaining a California Peace Officer certification. After leaving the Marine Corps, John became an Orange County California Sherriff's Deputy where he worked for two years. In 1987, he and his wife moved back to Missouri and he began his career with the Kansas City Missouri Police Department.
With an extensive amount of work and accomplishment under his belt, John keeps himself focused and motivated. When asked what advice he has to share with students, he commented, "The same I have for myself. Live with honor and never allow failure to be an option, especially with your education. Everything else will fall in place if you live by this credo."
Learn more about UA Grantham's College of Humanities and Social Sciences online degrees which include Criminal Justice, Multidisciplinary Studies, Paralegal Studies, and Strategic Communications.