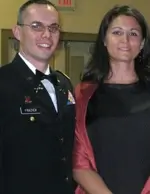 UA Grantham graduate, First Lieutenant James Frazier, always knew he would "eventually" complete his education once the money and opportunity arose. "As I started a family, it became even more important to earn my degree," said LT Frazier. He not only wanted to fulfill his goal, but set a good example for his children. It is important to him that his children know that "they can be anything they want to be" and understand the importance of a college education. But LT Frazier knew that it would be best to lead by example.
With UA Grantham, LT Frazier was not only able to set a great example for his children, but he was also able to spend time with them even while going to school. He enjoyed the "flexible, self-paced, timeline" that allowed him to fit school into his work and family schedule, and he was happy with Grantham's military friendly environment. He found that staff understood the military's Tuition Assistance program very well. "My student advisors were also very helpful in taking care of the administrative details that generally overwhelm a student," he said. LT Frazier graduated with his Bachelor of Science in Multidisciplinary Studies in May 2010.
Family wasn't the only reason LT Frazier decided to complete his degree; an online degree would also propel his career in the military. In 2006, James was commissioned as a Second Lieutenant with the Missouri Army National Guard, but was required to finish his degree prior to being able to take an AGR job or receive a promotion to Captain. "Now that I have my degree, I am currently serving as a full time Guardsman in the AGR program as the Operations Officer at my Battalion and will make Captain early in 2011," commented LT Frazier. "I am the Operations Officer for the Headquarters, 1st Battalion, 129th Field Artillery (Truman's Own). We are a M198 Battalion that will field the M777 early in 2011, a very exciting transition that will allow the Battalion to be a better force multiplier for the U.S. Army."
This year, LT Frazier plans to start his online master's degree. As he begins the next phase of his educational journey, his children are graduating. LT Frazier's oldest son, Mason, will graduate high school, while his youngest will graduate kindergarten at the top of his class. LT Frazier's middle son Ethan plans to follow in his dad's military footsteps as he aspires to join the military and pursue an engineering degree. Raising three boys is not a solo task, "I have a beautiful wife, Sarah, who has tolerated me for seven years, and together we raise our boys," he said.
LT Frazier has a word of advice for his fellow students and graduates, "No matter what you do, be the best, and take it personal if you're not." Learn more about UA Grantham's Military Tuition Assistance Programs.