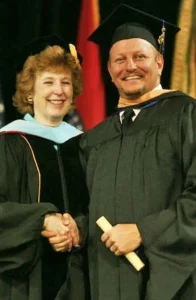 Chief Master Sergeant John M. Harris retired this year from 26 years of service with the Air Force and Air National Guard. He served as a Joint Terminal Attack Controller, supporting the 256th Infantry BDE, 20th Special Forces Group, OEF Coalition Forces, and multiple Enhanced Separate Brigades of the Army National Guard. He mobilized in support of OPERATION Desert Storm and deployed in support of OPERATION Enduring Freedom.
While serving as the State Command Chief Master Sergeant, the highest enlisted level of leadership in the Louisiana Air National Guard, Chief Harris represented the interests of the enlisted corps to The Adjutant General and served as an advisor to The Assistant Adjutant General for Air. During this time, he also served in the Louisiana National Guard Enlisted Association, the Counterdrug Task Force, the Louisiana Senior Executive Steering Committee, and was involved in fundraising efforts for the Louisiana National Guard Heroes Monument.
Chief Harris has had many major milestones in his career, but he accomplished another impressive milestone this year, completing his Master of Business Administration in Project Management at Grantham University. Chief Harris also earned a Bachelor of Science in Business Administration at Grantham in 2008. He is a very committed and driven person. His numerous military decorations, including a Bronze Star, Meritorious Service Medal, Air Force Commendation Medal, Air Force Achievement Medal (with 3 Oak Leaf Clusters), Army Achievement Medal and the Louisiana Cross of Merit; years of service to our country; and drive to complete his education is inspiring and impressive. In April, Chief Harris was recognized as Grantham University's 2010 Outstanding Graduate at the Distance Education and Training Council's Annual Conference. Click here to view the video.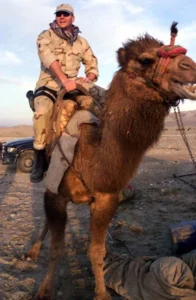 Like many, Chief Harris felt the pressure to complete his degree before retiring from the military. He regretted allowing other things to take priority over his education. Prior to enrolling at Grantham, Chief Harris commented, "I was a senior in college for 15 years." Not wanting to enter the civilian job market without his degree, he committed himself to completing his education. He loved the "flexibility, challenging curriculum, and frequent start dates" that Grantham had to offer. "I still had to complete my military missions, which involved a tremendous amount of travel, and Grantham University's online curriculum provided me with the flexibility that I needed in order to complete both my studies and my mission," he commented.
Like the majority of our students, Chief Harris juggled his work duties with being a husband, a father, and a student. Through it all, he found that Grantham University's online education created efficiency in his schedule. "I did not have to spend time travelling between my home and a brick and mortar campus, fight traffic, and wait during lag times between classes," he said. "When I had time in my schedule, I did my studies."
When asked about finally completing his education, Chief Harris commented, "The best part about graduating is that I have opportunities now that I would not have otherwise." So what is ahead for Chief Harris? "I would like to become an instructor for a distance learning institution, so I can help service members who were in the same situation that I was in just a few short years ago."
Even though he is retired, Chief Harris continues to serve his country by supporting those who are serving in our military. Currently, Chief Harris is working at Grantham as the Regional Director for Military Programs and Outreach in the Gulf Coast region of the United States. He is passionate about encouraging service members to take advantage of their benefits. "Between the GI Bill® (a combination of Chapter 1606 and Chapter 1607), Federal Tuition Assistance, and state educational benefits, I was able to complete both my bachelor's degree and my master's degree with little to no out-of-pocket cost to me or my family, and the Post 9-11 GI Bill provides 12 more months of educational assistance to my spouse or my daughters," Chief Harris said. "It is a tragedy that some members of the Armed Forces do not take advantage of the benefits that were earned though military service to our country."
As one can imagine, during his military career, Chief Harris had obstacles to overcome to achieve his degree: hurricane relief efforts, multiple deployments, parenthood, marriage, military travel and much more. "If I can do it under the circumstances I was in, anyone can do it," he said.
GI Bill® is a registered trademark of the U.S. Department of Veterans Affairs (VA). More information about education benefits offered by VA is available at the official U.S. government Web site at https://www.benefits.va.gov/gibill.