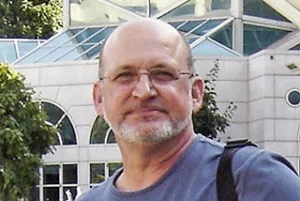 Retired Master Sergeant Richard Krohn like many High School seniors graduated with no definite plans. Shortly after, he joined the Air Force to have a job and this is how his journey to where he is now began. He wasn't planning on making the Air Force a career, but realized that "meaningful work that pays enough to support a family" isn't the easiest thing to come by. When he was ready to retire from the Air Force, he had a similar realization. "When I started looking for a job, I once again found that there just weren't that many jobs available that I liked and paid well that didn't require a degree," said Richard. "Finally, after 22 years of putting it off, I made the choice to work on my degree."
After Richard 24 years of service, Richard retired from the Air Force in 2004. Three months before retirement, he earned his Online Bachelor of Science in Engineering Management from UA Grantham. "I knew that if I didn't buckle down and get an education, my chance of having a good future for myself and my family outside of the Air Force was slim," he said. Receiving his degree did indeed improve his future. He commented, "My bachelor's degree helped me get a very good job as a systems engineer for a large defense contractor making much more money than I would have otherwise without the degree."
Once in his new job, he created a five year plan to continue on to earn his Online Master of Science in Information Management- Project Management. Richard did indeed achieve his goal, proving that if you make a plan and proactively work towards it, you can accomplish the goals that you set for yourself. Richard felt that this degree fit perfectly in his current career and would advance him in the workplace and help him achieve his future career goals.
UA Grantham's course format fit his educational and professional needs perfectly. "Being able to attend classes online made it possible for me to achieve my educational goals in a reasonable time frame," Richard said. He chose UA Grantham for both of his "late in life" degrees. Grantham transferred his military career experience and prior education for credit toward his selected degree program. Richard chose Grantham because of the technical curriculum and the online format. Online classes fit easily into his schedule, but that didn't mean the courses weren't challenging. "I found that distance learning really challenges you to know the materials far beyond traditional education," he said. "The books and tests for each course were up-to-date and pertinent, allowing me to keep abreast of the new and difficult challenges of today's business model, while offering me the tools needed to succeed in my career."
Richard said that he "not only had the knowledge, but also the confidence to make a complete change of direction" in his career after completing his master's. After working in the government intelligence arena for over 30 years, he finally felt like he could enter the private sector because he had the "tools necessary to succeed".
It is inspirational to hear stories of students and graduates advancing in their career or obtaining a new job after completing an online degree. We'd like to thank Richard for his years of service in the U.S. Air Force, and congratulate him on his new position as the Senior Project Manager – Enterprise Software Integration with an energy services company.
Learn more about UA Grantham's Military Tuition Assistance Program.