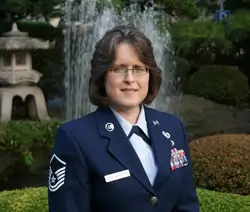 Wanda Covington-Ragsdale obtained her "ultimate goal" when she achieved her MBA in Information Management from UA Grantham on September 20, 2010. As a former enlisted member of the United States Air Force, earning this degree took longer than she planned due to frequent moves. Wanda found that each time she relocated, she would have to switch colleges, and sometimes this resulted in losing transfer credits and having to start over. Luckily, she found a solution when she discovered UA Grantham.
In 2005, UA Grantham University survived Hurricane Katrina and moved to its new home in Kansas City, Missouri. The Hurricane affected and changed many lives including those of UA Grantham's staff and students, like Wanda. "I was actually working on my Juris Doctorate when Hurricane Katrina swept through Mississippi destroying the life my family and I worked so hard to achieve," she said. Hurricane Katrina uprooted her family, forcing them to leave their home of Mississippi, and as a result, Wanda had to change her degree plans. She discovered UA Grantham while performing an online search and was instantly attracted to the concept of an online university because it was conducive to the ever changing military lifestyle. "I enjoyed the flexibility to take classes when I wanted and wherever the United States Air Force decided to send me," she said. UA Grantham appreciates military service and provides a military scholarship; which Wanda was appreciative of. "I am thankful for Grantham's military aid program. This program allowed my Tuition Assistance funds to stretch farther for more courses per year." Distance learning also helped her realize strengths within herself. "I proved to myself that I had the self-control to complete assignments on time and the discipline to keep myself motivated until I obtained my degree."
This discipline and dedication was instilled in Wanda early in life. Wanda was mostly raised by her grandparents, and it was their influence that made her who she is today. Her grandparents taught her a great lesson, to always strive for excellence and be the best at whatever she decided to do. "This caused me to strive for A's while in school and work hard to achieve my goals," she commented. "They watched over me and never let me forget that I could do whatever I wanted with my life."
In 1988, she decided to join the Air Force under the delayed enlistment program. Two months after her high school graduation, she was off to Basic Training and from there her life has been devoted to the United States Air Force. Mrs. Covington-Ragsdale said the reasons for joining the Air Force were to serve her country while working towards a degree and the opportunity to travel. She has accomplished those goals by dedicating her life to her country for so many years, achieving her online degree at UA Grantham, and traveling many places via the Air Force. She has traveled to Saudi Arabia, Egypt, England, Japan, and all over the United States.
After deploying to Desert Storm, her life became even more enriched. At her first duty station, she met her now husband. They soon married and had two beautiful children. Wanda believes that if it wasn't for her husband's support, she would not have achieved the degrees, rank, or job she has today. Calling him her "rock", she commented, "I know it was difficult moving as much as we did and taking care of our two children while I deployed for two years, but he never complained or batted an eye."
Her children have gained new perceptive and influences by moving around the country as a military family. They have been to wonderful places and exposed to several different cultures.
"I believe the experience gained from our travels has made them appreciate what we have in our country, and they understand why I served in the military," said Wanda. This understanding has influenced their decision to serve their community when they graduate from high school; her son wants to be a firefighter and her daughter wants to be a police officer.
Now retired from the military, the family "has a lot to be thankful for" as they enjoy a new home and a more stable life. Thanks to Wanda's hard work and accomplished education, she is living the life she always dreamed of. "I am working in the job I thought was only possible in a dream and am still married to the man I fell in love with at first sight 20 years ago."