Fairchild founded the University's nursing programs in 2009 which later became the School of Nursing, part of the College of Nursing and Health Professions.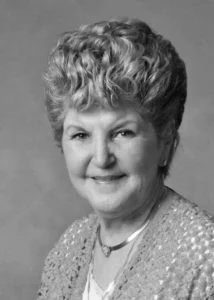 Kansas City, Mo. — October 10, 2013 — Dr. Susan Fairchild, Dean of the School of Nursing in UA Grantham's College of Nursing and Health Professions, has retired. To recognize Dr. Fairchild for her accomplishments while at UA Grantham, she has been named Dean Emeritus of the School of Nursing. Although Dr. Fairchild has retired from her duties as dean, she will continue to teach and lend her expertise to the nursing programs at Grantham.
"We cannot thank Dr. Fairchild enough for her dedication and service to both Grantham and our students," said Dr. Cheryl Hayek, Chief Academic Officer. "The passion she has for her nursing students is legendary as she always lovingly refers to them as 'her babies,' and takes the time to know each of them personally."
Dr. Fairchild joined UA Grantham in August 2009 when she came out of retirement to develop the University's online nursing programs. Previously, she taught nursing for more than 30 years at the associate, baccalaureate and master's levels in both traditional and distance learning environments and has authored two nursing textbooks.
In 2011, the School of Nursing celebrated a major milestone, the first graduate from the online RN to BSN degree program received her diploma. The first Master of Science Nursing degree was awarded in 2012.
UA Grantham's School of Nursing provides registered nurses (RNs) with the opportunity to further their education in areas of leadership, community concepts, research, and evidence-based, professional nursing practice. Currently, there are several online degree options: an RN-BSN Degree Completion Program, Graduate Certificate Options, and a Master of Science in Nursing with several specialties. Visit UA Grantham's School of Nursing to learm more or call 800-955-2527.
References:
https://www.linkedin.com/in/dr-susan-fairchild-b0981532
About UA Grantham:
Established in 1951, UA Grantham specializes in online education. Its mission is to provide accessible, affordable, professionally relevant degree programs in a continuously changing global society. Grantham's courses are 100% online, allowing students to study at home, at work, on Temporary Duty or from almost anywhere in the world. Accredited since 1961 by the Accrediting Commission of the Distance Education and Training Council, UA Grantham has compiled a distinguished record as a respected and accredited distance learning university spanning six decades of service to education.
###