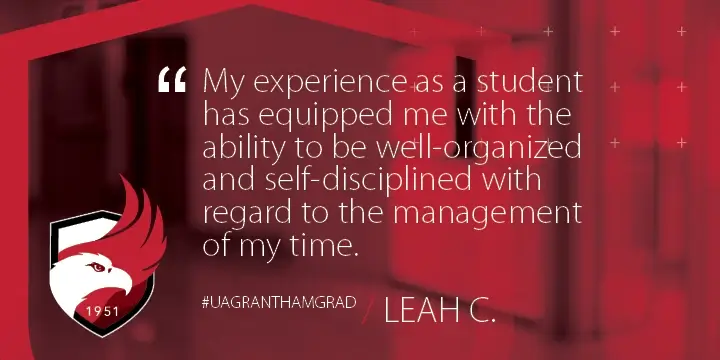 Why UA Grantham?
In our highly competitive world today, earning a degree is no longer a desirable choice—rather, it is required to establish a foundation upon which to create a successful career. Getting a degree will improve my credentials, offer me an advantage in the employment process, and provide me with the experience I need to do my best work. Pursuing my education as an online degree gave me the flexibility to go to class whenever it worked best for me. There are times when it is healthy to bring new, positive challenges into our life. This helps to keep us on our toes, and it puts our willpower and tenacity to the test. I had been searching for an opportunity that would allow me to experience some personal development within the medical industry. After some research, I decided University of Arkansas Grantham was it for me.
My UA Grantham Experience
Because we live in a world where expectations may shift rapidly, it's more important than ever for individuals who are employed to continue their education. People who already have busy lives and a variety of commitments now have the option to get the certifications they need to make progress toward their goals thanks to the provision of classes like those offered at UA Grantham.
Successful at UA Grantham
I had a clear idea of where I wanted my career to go when I started at UA Grantham. My achievement may be directly attributed to the level of diligence and self-control that I applied to my academic pursuits. My experience as a student has equipped me with the ability to be well-organized and self-disciplined in regards to time management. Additionally, I am aware of how to balance the demands of my academic life with appropriate opportunities for enjoyment and rest. Since I enrolled, I have also developed a strong feeling of self-belief and self-confidence as a result of my experience.
Degree Impact Life
My life will have been profoundly altered as a result of my education in billing and coding since it has set me on a course that may eventually lead to financial security and personal development. My anticipation is high for doing challenging initiatives and contributing to endeavors that will make people's lives better.
There is no guarantee, express or implied, that a college degree or certificate from University of Arkansas Grantham will improve employment prospects, earnings, earnings potential, or career advancement opportunities.