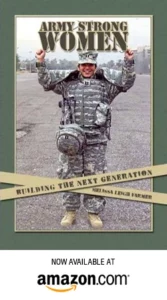 Kansas City, Mo. – March 09, 2010 – UA Grantham, an online university dedicated to providing educational opportunities to working adults for over 60 years, announced today that undergraduate student, Chief Warrant Officer 4 Melissa Farmer, has published an inspiring book that represents the untold stories of the countless women who have served in our nation's military. Army Strong Women: Building the Next Generation, released in 2009, is the result of several moving interviews that CW4 Farmer completed while deployed at Forward Operating Base Speicher while in Iraq with the 101st Airborne Division.
The idea for the book evolved as CW4 Farmer searched for books about women considering military careers. What she found in her base bookstore was a selection of books written, predominantly, by men about their experiences in the military and a few books about women who had achieved a certain rank or position within the military. While the stories were inspiring, they weren't exactly what she was looking for; so, she decided to write it herself.
"I discovered that the military has enhanced the lives of many women from various backgrounds and that those who have served have a deeper appreciation for every aspect of their lives as a result of their service," said CW4 Farmer.
CW4 Farmer lives by the mantra "never take life for granted and always give service to others." Writing this book has inspired her to dedicate her life to telling the stories of women all over the world and to educate those who want to serve and become the future of the Armed Forces.
A Chicago native, CW4 Farmer enlisted in the active component in 1994 after completing six years in the Army Reserves. She was appointed as Warrant Officer in 1999 and in 2001 received the United States Army Europe General Douglas MacArthur Leadership Award. She is also the recipient of the 2008 Adjutant General Warrant Officer of the Year.
CW4 Farmer is pursuing an Online Bachelor of Science Degree in Business Administration. "I chose Grantham because I felt that they could really help me meet my goals as I prepare myself for retirement in four years after 20 years in the Army," said CW4 Farmer. "Distance learning provides me with the flexibility that allows me to manage my day as I see fit, plus I get the equivalent education of a structured classroom environment without ever having to sit in a classroom."
Buy the book on Amazon here. Also, learn more about UA Grantham's Military Aid Programs and how we do more for military students.