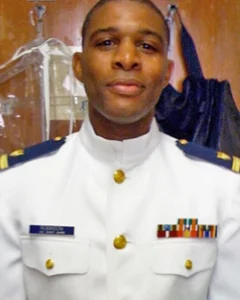 On December 9th, 2009, Grantham University student, Ensign Marquesio Robinson, graduated from the Coast Guard's Officer Candidate School (OCS). Prior to his acceptance, ENS Robinson applied to OCS every year for the last four years. He was off work the day the selection list was released and found out that he had been selected when a shipmate sent him a congratulations text message. "I was almost in tears of joy because I had waited for this moment for four years," said ENS Robinson. "This was a decision of mine and my family's, and without their support, I would not be where I am now."
The Coast Guard's OCS is a rigorous 17 week long training program that prepares service members for a career as an officer; the curriculum focuses largely on education and leadership. ENS Robinson was one of 70 candidates selected out of more than 500 applicants.
Now stationed in Sector New Orleans as a Port Security Officer, ENS Robinson ensures that the port of New Orleans is safe from terrorist attacks and searches vessels of high interest for stowaways, drugs, and safety precautions. During his five year career with the Coast Guard, he has served onboard the Coast Guard Cutter Tampa and at Sector Corpus Christi and Hitron Jacksonville in a variety of roles from assisting in Hurricane Katrina relief efforts to search and rescue and drug interdiction.
In October 2008, ENS Robinson enrolled at Grantham University to pursue his online Master of Business Administration because the flexibility of Grantham's courses allows him to balance work, family and school. In addition, the weekly assignments keep him free from the "stress of procrastination." ENS Robinson plans to utilize all he's learned in his MBA courses to successfully open his own business, a Rita's Water Ice.