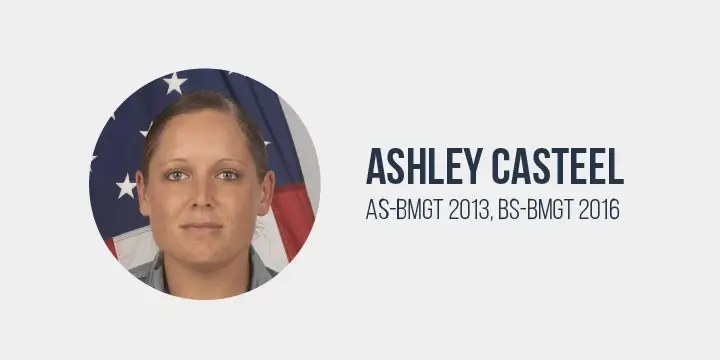 Who could be busier than a mom of two toddlers, pregnant with another child, with a full-time military career? That same mom working toward a college degree.
Ashley Casteel's inner drive is strong, and when she decided to pursue a college degree, she knew she would have to rely on that drive to cross the finish line and achieve her education goals. She was two years into her military career when she decided to seek a degree. As a new mom with a demanding military schedule, she chose University of Arkansas Grantham for the flexibility it offered. Ashley credits UA Grantham's military-friendly flexibility, its strong student support, and her personal determination as the factors that helped her succeed.
Ashley spent six years earning her bachelor of business management, working first toward her associate degree, then continuing to complete her bachelor's. She adjusted her course load according to what was happening in her life.
"Because of everything that I had going on with my family and the military, taking breaks was needed, so I could put my focus where I needed it," she said.
Juggling that many obligations wasn't always easy, but Ashley leaned on support resources offered by UA Grantham. She said reaching out and asking for help, communicating her circumstances, developing relationships with professors, student advisors and fellow students, and using the resources available, helped her through the rough patches.
"I'm a firm believer that it's not about where you go or what you do, it's the people you associate with that make the experience," she said. "And I really ran into some good people and some really good support through the school, and I definitely appreciate that."
The closer she got to completing her degree program, the more Ashley took on. She'd learned that by prioritizing her goals, she could successfully manage her family, home and military responsibilities, while still dedicating time to her studies.
Engaging with her professors gave them knowledge of Ashley's current situations, and they extended flexibility to help her meet requirements. But Ashley wasn't looking for handouts or taking the easy way out. She applied the military mantra to "embrace the suck" to her school as well, knowing her personal commitment would get her through. In fact, Ashley was so focused on finishing her degree, that during her final semester, she worked on midterms while in the hospital in labor with her third child.
Ashley believes investing hard work increased the value of her education. Using class discussions as an example, she explained, "The professors encouraged participation in the group chats and offering rebuttals to hear different points of view. You could really dig in deep to the subject. Some people didn't do that, but those who did could go deep into the conversation.
She says those who truly experience the value of higher education are, "those who are hungry for information, who learn because they want to know, who want to expand their knowledge. They don't just want to meet the requirements. They really want to understand what they're learning."
Ashley's go-getter attitude drove her to be the first in her family to earn a college degree, and that degree has boosted her military career. Currently a military police squad leader in Cuba, she will soon be returning home to Tennessee.
When asked for her secret to succeeding at UA Grantham and in life, she pointed towards accountability, and taking ownership of your own successes and failures.
She added, "The biggest thing is, don't give up. A lot of people will get discouraged and think, 'OK, well, I'm done. I'm going to give up.' It comes from within. It comes from within yourself. Nobody can tell you. Nobody can do that, but you. UA Grantham was there every step of the way. They worked with me and never gave up hope that I would come back. Thank you everyone at UA Grantham for being so thoughtful, caring and understanding!"
There is no guarantee, express or implied, that a college degree or certificate from University of Arkansas Grantham will improve employment prospects, earnings, earnings potential, or career advancement opportunities.