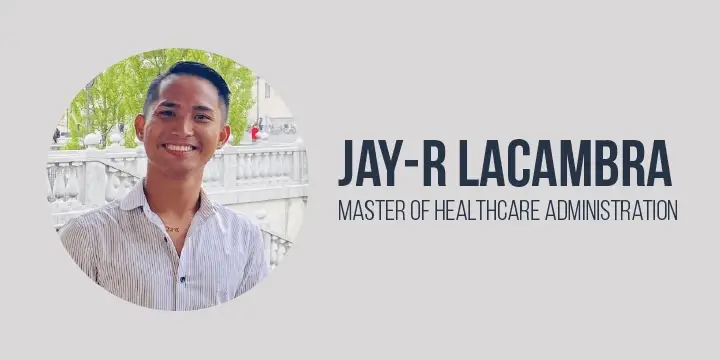 Graduate Jay-R Maddela-LaCambra, completed his finals early in the summer of 2021—the last box to check toward his master's degree in Healthcare Administration from University of Arkansas Grantham. Far from farewell, he instead took a deep breath in preparation for his pursuance of yet another UA Grantham degree—this time for business. He is midway through his Master of Business Administration (MBA) program.
LaCambra serves as a nurse in the military, just an hour away from Frankfurt at Rheinland-Pfalz Ordnance Garrison in Kaiserslautern, Germany. He currently works on base—focused on medical logistics in allied health—and his military contract will remain in effect until 2023.
Achieving Greatness with UA Grantham
LaCambra knew he wanted to further his education, and UA Grantham provided the needed flexibility and support.
"I searched online and read the school profile. It amazed me what was offered—the assistance that was given. I am grateful," LaCambra says. "The Master of Healthcare Administration is a life-changing degree that opens many doors to career opportunities."
He says the low-cost tuition provided by the military through the Tuition Assistance (TA) program is one way UA Grantham enables success.
The Heroes Program, as well as his attainment of the Spencer C. Duncan Make It Count Scholarship—created in honor of the spirit of sacrifice—aided significantly in covering the costs of fees, books and resources. "I had a guaranteed quality education without paying out-of-pocket, and graduated as a student, debt-free," LaCambra says.
And now, LaCambra still raves about his student experience, considering UA Grantham "an excellent institution to educate, enlighten, [and] develop brilliant minds— [one that] empowers students and graduates to make a difference in the professional world."
LaCambra was challenged at UA Grantham—by the instructors who were oftentimes veterans themselves, as well as the coursework. He emphasized the understanding and accommodating nature of the instructors, especially as it pertains to military life.
With UA Grantham, LaCambra sought flexibility with his study habits. He begins his work day at 5:30 in the morning and continues on until 7:30 in the evening. Following a day's work, he goes home, opens his laptop, and works on coursework till midnight.
He mentions how important education is to him, and how he doesn't mind the hours. "I'd be bored if I didn't have classwork," LaCambra says. "I like to be productive. I like to enlighten myself with education. My parents told me that no one can ever take that away from you."
A Military Career and Beyond
Born and raised in the Philippines, this is where LaCambra earned his nursing degree nine years ago. He came to the U.S. in 2018 for a registered nursing position in Iowa, and then joined the military in 2019 to follow a passion for serving his country. Through his military service, LaCambra has established permanent residency in the United States and is pursuing official status as a U.S. citizen—with hopes to eventually obtain a management position in healthcare.
"I plan to use my education to my advantage," LaCambra says. "To fulfill my aspiration to become a healthcare administrator, clinical director, or health manager in a hospital system or healthcare-related field."
LaCambra notes that in order to find success, you must have ambition, dedication, and trust in yourself. "Dream big, believe in yourself. Survive the challenges," LaCambra says. "This is me. This is my story."
There is no guarantee, express or implied, that a college degree or certificate from University of Arkansas Grantham will improve employment prospects, earnings, earnings potential, or career advancement opportunities.