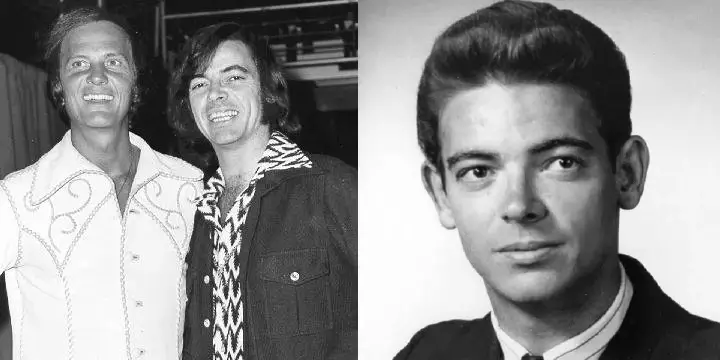 Pictured—Famous recording artist Pat Boone and Jerry Osborne at a show in 1975. Jerry Osborne in 1966 at his first radio job in California.
Jerry Osborne has the chatter down to a smooth science—a quick joke or a pun. Then he turns serious for a second and then another joke. He is definitely a radio guy. He has been a deejay, a musical director, chief engineer and program director, beginning in the 1960s and continuing through today at radio stations in the west—California, Texas, Arizona and Washington.
Osborne is 76 and is active being a radio guy. He loves it all. He is also a proud University of Arkansas Grantham graduate.
He said he got his start early in a California high school running the school's radio station in 1961. Osborne said he knew then he wanted to stay in radio, but he needed a first-class engineer's license. A friend suggested Grantham Radio Licensing School in Los Angeles for the three-month course. "UA Grantham is an important part of my development in radio. I ate up the classes."
His friend from high school, John Reeder, had gone through the courses. Reeder went on to work at the University of California – Los Angeles as a chief television engineer, Osborne says.
Osborne added that he still has all his study manuals and notes, somewhere. He remembers the classroom at Hollywood and Vine.
His radio background opened the door to a syndicated column "Mr. Music" for World Features Syndicate (later Gannett) until 2019. It appeared in 40 papers, including the Chicago Sun-Times. The column still appears online in "Cashbox," an industry trade magazine. He answers questions from readers about performers, song titles, one-hit wonders and many other things. "Some answers came right off the top of my head. Others took some research," he says.
The original column idea started around 1986. "While living in Phoenix, I talked to newspaper columnist, Erma Bombeck (who also lived in Phoenix), about the column idea. She told me to look in 'Editor and Publisher' (magazine) and make some contacts. It worked," he says. "The first year, I was in three papers."
From his years in radio, he is known as an authority on record prices and album collections. He has written more than 200 reference guides on record collecting and has been a technical advisor for television shows on CNN and MSNBC. He has been interviewed by dozens of magazines on the art of collecting vinyl. Osborne says all those printed stories are in a box somewhere in his house.
He continues to publish an online edition for collectors. The last printed version of the guide will come out for 2020-21.
Today, Osborne lives in Port Townsend, Wash., north of Seattle on the Olympic Peninsula. He proudly talks about his two radio gigs per week at KPTZ 91.9 FM. On Wednesdays it is "Vinyl Village" at 7 p.m. and Sunday's is "Class Reunion" at 1 p.m. He has been at the station since 2014 and is available through the web. "It is what I love. And I love all the people that I work with at KPTZ. It is all volunteer work, unpaid, but very fulfilling. The station is supported by the people in the community. I may enjoy it more than working for pay," he says.
He continued that he is asked about working in radio today and if there are still opportunities. For Osborne, "I couldn't have achieved what I did without that radio license (from Grantham)." For the future, he says, "to start small and work your way up."
There is no guarantee, express or implied, that a college degree or certificate from University of Arkansas Grantham will improve employment prospects, earnings, earnings potential, or career advancement opportunities.