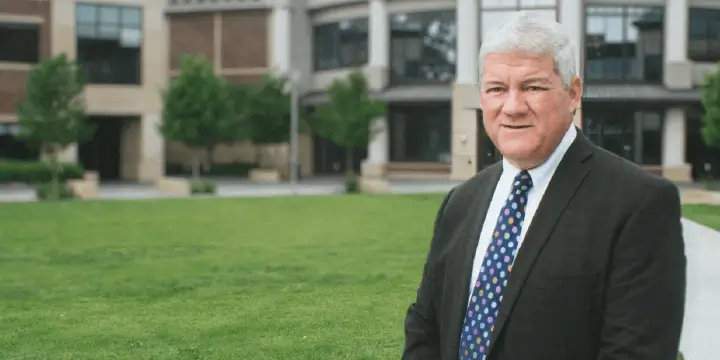 After 25 years as a police officer for the Kansas City Police Department, James (Jim) Herrington of Shawnee, KS decided to pursue his college degree, knowing a high school diploma alone would never lead to a promotion within the department. But career growth wasn't Herrington's only motivation — he also longed to fulfill his mother's hopes for him.
"My mother was smart and loved college; it was important to her for all her children to get a college degree," Herrington says. "She has nine children, seven with bachelor's degrees and five [with] graduate degrees. I wanted to show my mother she was right. I could finish my education."
The Kansas City Police Department partnered with University of Arkansas Grantham and agreed to paying for a portion of his education — making UA Grantham an easy decision. Herrington recalls the enrollment process as a smooth and effortless one, designed to support success. That's not to say he didn't encounter his fair share of challenges typical of adults juggling a career alongside education. "I worked a lot of second jobs, and I worked a second job overnight while I was attending UA Grantham."
Herrington considered the program to be straightforward and manageable with clear milestones and expectations. "I appreciated the experience of steadily progressing through the degree," Herrington says. "I am task-oriented and the program easily allowed me to see my progress and keep my eye on the prize. Finishing gave me a tremendous feeling of accomplishment."
Much of his coursework reflected knowledge he had absorbed through his experience on the force, but he also enjoyed exploring subjects less familiar to him. Herrington appreciates his college experience overall and the opportunity to learn something new.
Soon after completing his bachelor's, Herrington made a career shift. He retired from the police force and became the Director of Safety and Emergency Management at Kansas City University.
"It was a big career change, but there are some similarities; dealing with people [has always been] a big part of [my] career. As a detective, I had control over most aspects of my cases, but as a director — I have to assign tasks to others to manage projects [in order] to effectively accomplish goals."
Having earned a bachelor's from UA Grantham, Herrington was perfectly positioned to build on his education and acquire additional leadership skills with a master's degree focused in management and strategy.
Jim credits UA Grantham for providing both an online program that fit into his schedule, and a stepping stone for his success. When asked what advice he'd give to others considering UA Grantham, he said, "stick to the schedule UA Grantham established for you — they know what they are doing and can get you through."
There is no guarantee, express or implied, that a college degree or certificate from University of Arkansas Grantham will improve employment prospects, earnings, earnings potential, or career advancement opportunities.