From UA Grantham Student to Teaching Rocket Scientist: Jim Marion's Lifelong Commitment to Education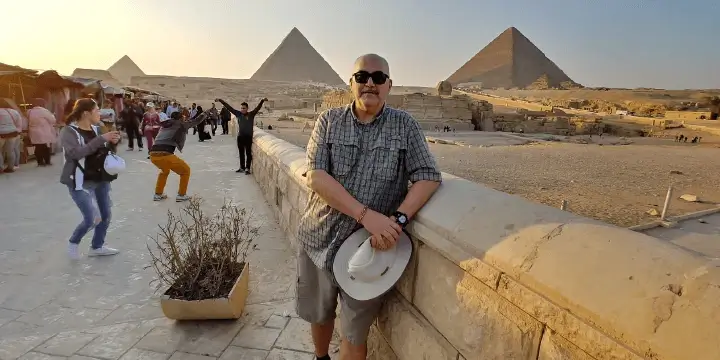 Jim Marion didn't take the most straightforward path to becoming a college professor. He started out following his family's expectations for him to enter a career in ministry. But after studying theology for four years, Marion realized that ministry was not for him, and he made the difficult decision to start over from scratch in a new vocation. He was discouraged, back at square one, and he felt his peers had pulled ahead of him, beginning to build successful careers.
But thanks to his drive for success and his thirst for learning, Marion would pull ahead of the pack, building an impressive career with a long list of educational credentials to match, including an engineering degree, three master's degrees, and a PhD.
Choosing a new path
After leaving the seminary, Marion tapped into a childhood interest. He remembered enjoying tinkering with his dad's old radios and communications equipment, relics from his dad's military service.
In the mid-80s, he started a job as a technician, working with cell phone and pager technology. After being promoted to supervisor, then manager, he realized that many of the employees he managed had more education than he did, so he decided to finally get a degree in order to build expertise and maintain his career edge. He capitalized on his employer's tuition benefits to pay for his college.
Distance learning: The path less chosen (at the time)
Working full time, and married with a family, brick-and-mortar college options would have required long commutes through Los Angeles traffic which he simply did not have time for, so he decided to pursue an engineering degree through a correspondence course offered by University of Arkansas Grantham.
Earning his degree required a lot of commitment, and Marion found the answers he needed by searching for them himself. He recalls countless hours in the library, poring over engineering tables, and using early graphic calculators. He reminisced about one summer which he calls "the summer of calculus," and says, "I remember just grinding it out."
He explained how distance learning worked at that time, before online coursework was possible. "In those days, proctored exams were arranged to be taken at the local library, and assignments were mailed back and forth."
He joked, "I was on the football team for a while, but the postage got too expensive." Marion was an outstanding student, after six years of study, he graduated with his Bachelor of Science in Electronics Engineering Technology in 1994. He was recognized with an outstanding graduate award in 1996, which he still has. He felt very proud of himself for his hard work, and even took himself to Sears to get a photo of himself to commemorate his accomplishments.
Education: Jim's lifelong career theme
Marion credits the bachelor's in electronic engineering technology he earned from UA Grantham as the lynchpin of his success. His career continued to grow, and he continuously added to his education, enabling him to move upward through management, serving with titles including division president in technology giants including Panasonic.
He strategically added more degrees, knowing that because technology was changing so rapidly, he needed to be able to adapt. "It made me feel like I was always moving in a positive direction," he says, noting that as technologies become obsolete, niche technology careers become obsolete as well. "But employer tuition programs are one benefit that you can take with you throughout your life. You may lose a job, but you always get to keep your education."
Becoming an educator
In 2006, Marion's career took yet another turn when he transitioned from student to teacher and began teaching electronics online. Even then, he didn't stop learning, and continued enrolling in courses to expand his knowledge, that he would then pass on to his students.
Marion is now the Department Chair and Associate Professor for the College of Business and Department of Decision Sciences at Embry-Riddle Aeronautical University.
He notes that distance learning has evolved, and finally earned its place, now fully recognized in the education world, it just took some time for forerunners like UA Grantham to forage the path and prove that well-designed distance education provides comparable education and value to other schools.
"Anything new — people traditionally look down on any novel ideas. Later on, they think it's reasonable. Further on, they become recognized. That's the way things are done." He adds, "Is it about learning or is it about trying to brand yourself? The value is in what you know and what you can do. And for me, even though I started before distance learning was fully recognized, it served me well, giving me a strong foundation for the rest of my career."
There is no guarantee, express or implied, that a college degree or certificate from University of Arkansas Grantham will improve employment prospects, earnings, earnings potential, or career advancement opportunities.