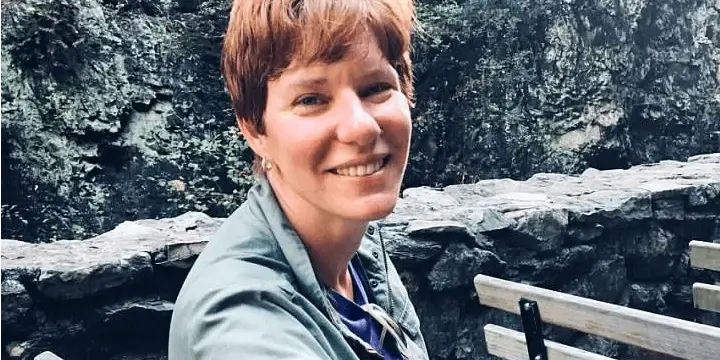 By day, you'll find Lisa Ploch Swope serving her community as a property manager for a non-profit organization in Oklahoma—Food and Shelter, Inc. She then moonlights as a freelance writer, and you may even spot her on an Oklahoma comedy improv stage. We asked Swope to share her education and career journey with us, which even includes time as an admissions advisor at University of Arkansas Grantham.
Higher education and transformation seem to be recurring themes in her life. Swope's first college experience was fairly traditional, beginning at a local community college before transferring to Northern Illinois University, where she obtained her bachelor's in journalism in 1999. But after a few years, she sidelined her journalism career to explore a broad range of career paths. Because her husband's job enabled them to relocate at times, she seized that as an opportunity to reinvent herself through new jobs, in new places. She liked the idea of furthering her education, but prior student loans made it seem impractical at the time.
That is until moving to Kansas City, where Swope began as an admissions advisor and student at UA Grantham—she enrolled and advised students from all over the country, and many who were deployed overseas.
"Each student was on a unique path that was different from the way I had always thought about college," she recalled. "Being a UA Grantham student while advising other students helped me to relate because we shared the experience of balancing busy lives with school."
Swope graduated from UA Grantham in 2013 with her master's in performance improvement.
As can be noted in her desire for learning and new experiences, she sought to become more well-rounded in the workforce, opposed to specializing in just one thing. "Performance improvement was a brand-new degree option that really appealed to me as someone who already had a lot of work experience and was looking to broaden my knowledge," she said.
She especially enjoyed her Organizational Behavior course, having previous experience in a variety of organizations and an understanding of office dynamics. But with only a few courses left to complete, her husband's job relocated them to Tennessee, where not long after their home was hit by a tornado—destroying the laptop used for her studies in the process.
Swope and her husband settled into a hotel, and she made good use of the available business center to complete her studies until she could replace her laptop. Her instructors expressed understanding and extended her deadlines. "My life was messy and unstable, but I was able to keep on with my studies, thanks to the way UA Grantham's online platform is structured," she said.
At her new job in Tennessee, while also working toward her master's, Swope observed and evaluated in office processes based on what she was learning in her performance improvement class—and then reflected on and shared those real-life experiences in her online class discussions. Just before graduation, she got the opportunity to tell her manager about her master's degree, which gave rise to opportunities for work on new projects. "I think that having that higher level of education gave me some additional credibility in the workplace," she said.
Having worked in a multitude of work environments—both small and large, family-owned businesses, and corporate settings—Swope credits UA Grantham's performance improvement program for aiding her in becoming someone adept at identifying ways to implement meaningful change in the workplace.
There is no guarantee, express or implied, that a college degree or certificate from University of Arkansas Grantham will improve employment prospects, earnings, earnings potential, or career advancement opportunities.