Sean Moser: UA Grantham Graduate and Presidential Management Fellowship Alumnus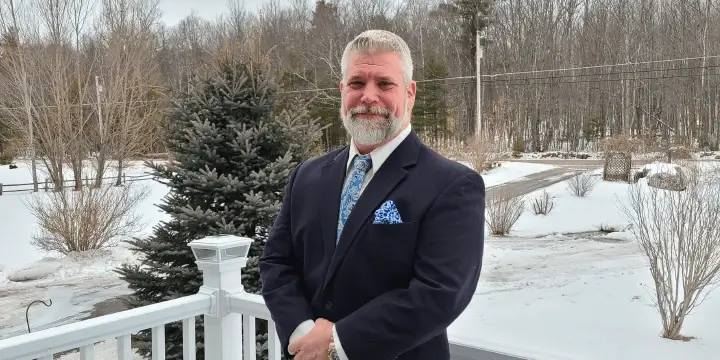 After two decades in the military, Sean Moser knew furthering his education could boost his success in the post-military phase of his career. One of his achievements has been the prestigious honor of being chosen for a Presidential Management Fellowship, made possible in part by earning a master's degree. With his commitment to developing his leadership skills, Sean has carved an impressive career path for himself in which he continues to support his country and fellow veterans through a career in the VA.
A military career with a focus on healthcare
Sean Moser entered the military as a medic in 1992. For over two decades, his military service took him around the world. He climbed the ranks and acquired a wide breadth of experience along the way. Two themes defined his time in the military, healthcare management and leadership.
The decision to continue his education After two decades of military service and approaching retirement, Sean decided to pursue a master's degree. He researched available options, and chose UA Grantham for its military-friendly format and flexibility, as well as the availability of a degree program that would build on his experience and provide a foundation for his new career.
"I was still in the military then and I wanted to go for my master's. I saw the master's degree in healthcare administration, and I thought it looked compelling."
A new career and a prestigious honor
Upon retirement from the military in 2016, Sean accepted a federal position recruiting physicians for the VA. One of his coworkers told him about the Presidential Management Fellowship program and urged Sean to apply.
"The two-year fellowship is for leaders of tomorrow in the government," Sean said about the Presidential Management Fellowship program. "It's a leadership development process, helping aspiring leaders grow."
He explained the military and government take different approaches to management. "[As part of the fellowship] You learn about how government works, and what a successful leader is to them. They bring you in from the ground up, exposing you to different aspects of government leadership so you can tailor yourself to grow into an effective and efficient leader throughout your career in government."
With an acceptance rate of around five percent*, Sean was honored to be chosen for the program.
"I never thought that I would be selected, to be honest, because it's very hard to get into. I put in my application and next thing I know, I was selected as a finalist. So, it was kind of spellbinding for me."
The presidential fellowship program is involved, requiring formal training, mentorship with senior-level personnel, and a development assignment for training within a federal program, all aimed toward grooming the candidate for a specific leadership position.
Sean completed his fellowship with the Veterans Integrated Service Network (VISN 1) VA New England Healthcare system which manages benefits for veterans throughout New England.
During the two-year fellowship, Sean drew from his studies at UA Grantham. Healthcare management classes and leadership courses, in particular, provided him a deeper understanding of healthcare systems, as well as insights on challenges the VA faces as one of the largest integrated healthcare networks in the world.
Career growth as a Presidential Management Fellowship graduate
After graduating from the Presidential Management Fellowship program, Sean accepted a position with VISN 1 (where he had completed his fellowship) as lead senior strategic business partner for the VA Boston healthcare facility. There, he works directly with leadership and the rest of the team on human resource matters, strategizing to ensure that veteran healthcare is delivered effectively and efficiently throughout the system. He anticipates that his leadership training and education will continue to open doors to expand his role, and is committed to supporting the VA's mission of helping veterans get the care and services they need.
Sean acknowledges his UA Grantham master's degree was a crucial step in getting him to the point he's at.
"Without the degree that I have through UA Grantham, I would not have been able to achieve what I have. For the Presidential Management Fellowship, you have to have a master's degree and it has to be through an accredited college. That degree helped get me where I am right now."
Sean leaves this advice for those pondering pursuing higher education:
"Don't sit back and wait and wait and wait like I did. If you feel that you want to do it, then do it. And whatever degree you choose, make sure it is something that you want to do for a long time. Don't just do it just because you think there's money involved or because someone else told you it would be best. Consider what you want to do and get out of it, and go for that."
There is no guarantee, express or implied, that a college degree or certificate from University of Arkansas Grantham will improve employment prospects, earnings, earnings potential, or career advancement opportunities.