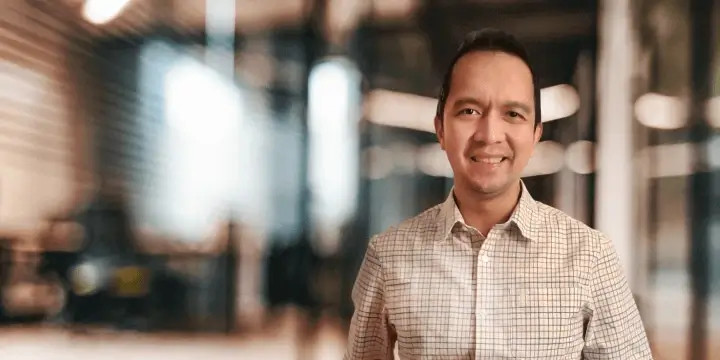 Asher Apurillo has been a nurse in different kinds of critical care—from cardiovascular and medical, to his current role in the surgical care unit at a VA hospital in Hines, Illinois.
One could say that nursing is in his blood. "In my family, we're all nurses. Me, three of my siblings, and many of my cousins. My uncle, who helped and encouraged me during school, is a nurse, and every branch of our family has a representative in nursing." Apurillo knew he wanted to pursue some form of nursing education and envisioned influencing the nursing world by helping to empower and enrich nurses—a role he feels is critical to the profession.
"I like teaching, [and] I enjoy presenting and working as a charge nurse," says Apurillo. "But based on needs I've seen in my career, I wanted to focus on hospital education and oversee nurse professional development; helping fellow nurses stay updated on current trends in nursing. Nursing evolves, it doesn't just stay the same—there are always new trends and new practices."
Since he and his wife are both full-time nurses pursuing advanced degrees, with two young children and a love of travel—he was seeking a graduate school that could accommodate his busy life. He was hopeful that University of Arkansa Grantham's online format and flexible scheduling would enable him to fulfill his responsibilities and find balance in his life, while being successful in his studies.
Among the schools Apurillo researched, UA Grantham stood out for several reasons. Though not military himself, after having worked at the VA for much of his career, he appreciates UA Grantham's support of military personnel. The affordability, the smooth and straightforward admissions process, and informative admission representatives eager to assist every step of the way contributed to Apurillo's decision as well.
The attention and support Apurillo encountered from UA Grantham's admission representatives continued throughout his educational journey.
He is appreciative of the many resources provided by UA Grantham, which enabled him to successfully complete the program. "If you just go to your advisor for advice, they will point you to the help you need. I could always count on them."
Earning his master's degree was tough, but Apurillo didn't hesitate to utilize UA Grantham's resources, making the difficult times easier to manage. For instance, his advisers were able to help coordinate extensions when he needed them, and UA Grantham's tutoring services proved valuable during his final project.
"I utilized the tutoring when working on my capstone because I needed a lot of input," says Apurillo. "I needed somebody to help construct my project from my ideas, and to help me give proper references—things like that. I think three or four tutors gave me their insights."
Apurillo hopes to spread a message, one that encourages others to further their education in the nursing profession. "You know, this whole experience if I look back, it was challenging—very challenging. But I was just sharing with my coworkers; I want them to realize that if I was able to do it, they can do it."
The flexibility of UA Grantham's online format allowed him to earn a master's degree while continuing to juggle a nursing career, remain present and attentive to his family, and fulfill his love for travel.
"I remember buying Internet service on a plane so I could study and submit my course work," says Apurillo. "The virtual classroom environment makes it easier and accessible to anyone interested in pursuing a degree."
Apurillo urges others in the nursing field to carve out time for professional development. UA Grantham's approach to education gave him all the tools he needed to succeed.
"It's a matter of priority and how you manage your time," says Apurillo. "You have to set a specific time for school, specific time for family, for fun and then work … If you have sleepless nights or have to give up going out with friends because you have to do homework—then so be it … If you have a goal, then set your eyes toward it and work on it. The road may be long, but if you set your heart focus onto it, you'll finish it."
Apurillo's diligence and focus paid off when he graduated in March 2021. He is now preparing to become a certified nurse educator, with hopes to build on his education and develop a program or a curriculum similar to his capstone project. "I would like to create a syllabus or curriculum for the nurses, to encourage and prepare them both mentally and emotionally [for] their job."
With appreciation for his UA Grantham experience, Apurillo says, "I am overjoyed that I completed my degree. My teachers, the nursing department, they know this has been quite a journey for me. I could not be happier and more proud of the support that I got from the institution, from the faculty and the staff. I have very good mentors. My instructors are amazing. This online learning platform is very accessible and UA Grantham is very supportive to whoever wants to take the next step in their education."
There is no guarantee, express or implied, that a college degree or certificate from University of Arkansas Grantham will improve employment prospects, earnings, earnings potential, or career advancement opportunities.